Mother Nature can improve your business
January 22, 2014: 8:23 AM ET
Weathering storms may make you a better boss. One company's silver linings playbook.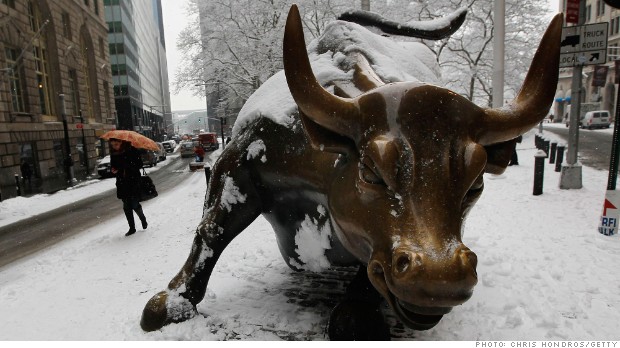 FORTUNE -- Neither wind nor rain nor Arctic blast, now socking the eastern U.S. for the second time this winter, keeps good companies down. If a company is great at its core, it actually strengthens when tested by Mother Nature. One example is Guardian Life Insurance Company, which overhauled its workplace culture thanks to lessons learned in the aftermath of Superstorm Sandy.
Picture a Fortune 500 company steeped in tradition, with stodgy offices near Wall Street, old ways of operating and a relatively new CEO who wanted to update the work environment but questioned the value of change since performance was just fine. Guardian, a mutual insurer owned by its policyholders, had delivered profit increases for four straight years, so why shake things up?
Guardian was running on a successful sort of inertia under CEO and president Deanna Mulligan, who had arrived from Axa Equitable in 2008 and taken the top position in mid-2011. But when Sandy struck on October 29, 2012, the storm flooded the downtown New York headquarters with five feet of water, knocked out power, and made the offices uninhabitable for nearly a year.
"A blessing in disguise" is how Mulligan now characterizes the impact of the storm on Guardian's culture, even though the disaster left inordinate damage to homes and human lives--and certainly did not seem to be a blessing initially. All employees at the company's 7 Hanover Square headquarters--more than 1,600 out of Guardian's total 5,000--were prohibited from returning to their offices and couldn't retrieve anything, not even what they left on their desks the Friday before. The wait was supposed to be a couple of months. It turned out to be many more.
Goldman Sachs (GS)--the cover subject in Fortune's new "Best Companies to Work For" issue--offered Guardian a few empty floors in a building across the Hudson River. So 1,600 Guardian employees moved to 30 Hudson Street in Jersey City, N.J., but the temporary space was nothing like they were used to. Instead of having individual offices or even cubicles, many employees had to work elbow to elbow at long tables, cafeteria style.
Those were the folks who made it in to work. Others with homes devastated by the storm found alternative work spaces--local libraries, coffee shops and the homes of friends--and joined Guardian meetings via Skype.
Mulligan's own work habits changed because they had to. She had been one of those bosses who printed all of her documents and relied heavily on paper. After Sandy hit, Mulligan started using the productivity tool Evernote to store and manage everything. "My whole life is on Evernote," she says, pulling out her iPad, tapping the Evernote app and showing me her schedule, contacts, Guardian's annual report, reference materials for boards she sits on, and personal notes. "Evernote can search your handwritten notes by keywords," she says.
More than just saving a few trees, Mulligan, who ranks No. 47 on Fortune's Most Powerful Women list, is working more productively than ever, and so are her employees, she contends. Guardian's finance chief, Robert Broatch, has gone largely paperless. Fifteen months after Sandy, more and more employees are opting for flexible hours, working some days at home and some in the office. "They did it in the most difficult circumstances. Why would we disapprove of it now?" Mulligan says. Guardian has a training program to teach employees how to manage "virtual teams" of remote workers.
Guardian's offices across the U.S., including a large office Bethlehem, Pa., are getting open-plan redesigns. And Mulligan is looking into various accessories, like treadmill desks to share, to encourage collaboration.
The real surprise is that Guardian's performance held steady in Sandy's aftermath (most policyholders were unaware of the company's dire circumstances) and actually improved in some areas, according to customer feedback. And while Sandy was a greater challenge than expected in many ways (phone service and electricity outages kept Guardian employees out of headquarters for 11 months), the storm forced helpful change on everyone. "How much management do people need? Maybe not as much as we thought," says Mulligan.
Since she's now an advocate for letting employees loose (or looser than they were, at least) and permitting work from home, I ask the Guardian chief what she thinks about Yahoo (YHOO) CEO Marissa Mayer's efforts to get her remote employees to work in the office. "I do believe that certain creativity happens when people are in the room together," Mulligan says, "but I don't believe people have to be in the room together all the time." About Mayer, she adds: "I have a lot of empathy for her. She's trying to change a culture, and so am I."